Webdesign • SEO • Consulting
Webseiten für Selbständige und kleine Unternehmen
Web design
I present your company on the Internet with a clear structure and at the same time modern and creative.
SEO
A website should create contacts, connect people. I integrate search engine optimization at every step of the website creation and build up long-term search engine optimization.
Graphic design
Graphic design is not my main focus, but on request I also design business cards, flyers and other print media for my website customers.
Consulting
Your website should represent your company authentically in terms of feeling and impression. I will sit down with you to select the structure and content in a marketing-oriented and SEO-optimal manner and to present them in accordance with the personality of you or your company. I can grasp complex topics well and implement them clearly and simply.
WordPress
For the realization of the websites I use WordPress with Premium Responsive Themes. WordPress is the most used CMS/blog system worldwide, which I prefer to use because of the ease of use for the customer, the modern templates and the many plugins available.
Avada
I mainly use Avada for my clients' websites. Avada is a multipurpose WordPress theme and website builder with a wide variety of design options and a high degree of flexibility.
GDPR
I design your website in compliance with data protection regulations with a privacy policy, impressum (required for German websites), cookie consent and Co.
Maintenance
For customers who do not want to update texts and content themselves, I take care of the website maintenance and carry out updates for the security of the system.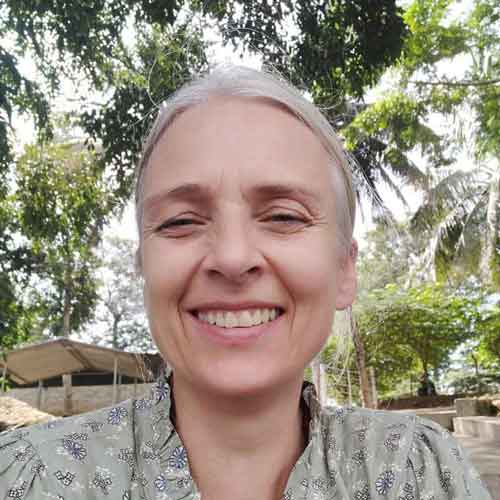 About me
"Creating sustainable websites with logic and creativity"
I live in the beautiful city of Mysore, India and have been a freelance web designer for over 15 years by now.
Holistic topics
I am very interested in holistic topics and have therefore specialized in companies/freelancers from the healthcare sector, in particular naturopaths, physiotherapists, osteopaths, life coaches, nutritionists, etc. I like to deal with these topics, both professionally and privately. I always look forward to topics from this area, but I am also open to other topics!
Education
Masteres in business administration with a focus on marketing and market and advertising psychology
(Munich), 1997
IBM certificate E-Commerce with a focus on Java programming
(Bangalore, India), 2000
Lavinia Ebert • lavinia

Web design

@laviniaweb.de